O USO DOS BIFOSFONATOS COMO COADJUVANTES NA TERAPIA PERIODONTAL – REVISÃO DE LITERATURA
Resumo
A periodontite é uma doença imunoinflamatória caracterizada principalmente pela perda de osso alveolar (POA) como consequência da ação de mediadores inflamatórios que atuam sobre o processo de osteoclastogênese, interferindo, assim, na remodelação óssea. Embora muito se conheça sobre sua patogênese e formas de tratamentos, novas alternativas vêm sendo buscadas visando diminuir ou paralisar as sequelas da doença periodontal. Neste contexto, destacam-se os bifosfonatos (BFs), fármacos que possuem alta afinidade pela hidroxiapatita, desempenhando um papel relevante na terapia de desordens ósseas metabólicas, como a osteoporose pós-menopáusica, por exemplo, devido ao seu poder de inibição da reabsorção e indução da mineralização óssea. O objetivo do presente estudo foi revisar a literatura científica sobre o potencial adjuvante dos BFs na terapia periodontal, especialmente quanto ao efeito antirreabsortivo deste grupo de fármaco. Para este fim, foram consultados, bancos de dados do Scielo e Pubmed, coletando artigos de pesquisa científica e de revisão de literatura publicados nos últimos 16 anos. Durante a pesquisa, foram revisados sete estudos pré-clínicos in vivo e sete ensaios clínicos. Destes, 11 concluíram que os BFs foram capazes de reduzir a POA ou mesmo prevení-la; dois mostraram somente um efeito anti-inflamatório, através da redução dos mediadores inflamatórios, como as metaloproteinases de matriz e prostaglandinas; e apenas um não mostrou algum efeito aditivo na terapia periodontal.  Logo, considerando que na periodontite ocorre a ativação maciça de osteoclastos e a concomitante reabsorção óssea, aliado ao conhecimento de que os BFs têm se destacado por seu efeito especialmente antirreabsortivo, entende-se que esses fármacos podem assumir um papel significativo na redução da POA observada na periodontite.
Palavras-chave: Bifosfonatos. Tecido ósseo. Periodontite.
Referências
ALENCAR, V.B.M.; BEZERRA, M.M.; LIMA, V.; ABREU, A.L.C.; BRITO, G.A.C.; ROCHA, F.A.C.; RIBEIRO, R.A. Disodium chlodronate prevents bone resorption in experimental periodontitis in rats. J Periodontol, v. 73, n. 3, p. 252-256, 2002.
AL-HARTHI, L.S.; CULLINAN, M.P.; LEICHTER, J.W.; THOMSON, W.M. Periodontitis among adult populations in the Arab World. International Dental Journal, v. 63, n. 1, p. 7–11, 2013.
BADRAN, Z.; KRAEHENMANN, M.A.; GUICHEUX, J.; SOUEIDAN, A. Bisphosphonates in periodontal treatment: a review. Oral Health Prev Dent, v.7, n.1, p. 3-12, 2009.
BARTOLD, P.M.; CANTLEY, M.D.; HAYNES, D.R. Mechanisms and control of pathologic bone loss in periodontitis. Periodontology 2000, v. 53, p. 55-69, 2010.
BEZERRA, M.M.; DE LIMA, V.; ALENCAR, V.B.; VIEIRA, I.B.; BRITO, G.A.; RIBEIRO, R.A.; ROCHA, F.A. Selective cyclooxygenase-2 inhibition prevents alveolar bone loss in experimental periodontitis in rats. J Periodontol, v. 71, n. 6, p. 1009-1014, 2000.
BROZOSKI, M.A.; TRAINAN, A.A.; DEBONIS, M.C.Z. Osteonecrose maxilar associada ao uso de bisfosfonatos. Rev Bras Reumatol, v. 52, n. 2, p. 260-270, 2012.
BUDUNELI, E.; VARDAR, S.; BUDUNELI, N.; BERDELI, A.H.; GLU, O.T.; KESEN, A.B.; ATILLA, G. Effects of Combined Systemic Administration of Low-Dose Doxycycline and Alendronate on Endotoxin-Induced Periodontitis in Rats. J Periodontol, v. 75, n. 11, p. 1516 – 1523, 2004.
CHEN, F.M.; JIN, Y. Periodontal tissue engineering and regeneration: current approaches and expanding opportunities. Tissue Eng Part B Rev, v. 16, n. 2, p. 19-55, 2010.
CHENG, A.; MAVROKOKKI, A.; CARTER, G.; STEIN, B.; FAZZALARI, N.L.; WILSON, D.F.; GOSS, A.N. The dental implications of bisphosphonates and bone disease. Australian Dental Journal Medications Supplement, v. 50, n. 4, p. 4-13, 2005.
COCHRAN, D.L. Inflammation and bone loss in periodontal disease. J Periodontol, v. 79, n. 8, p. 1569-1576, 2008.
COLEMAN, R.E.; GUISE, T.A.; LIPTON, A.; ROODMAN, G.D.; BERENSON, J.R.; BODY, J.J.; BOYCE, B.F.; CALVI, L.M.; HADJI, P.; MCCLOSKEY, E.V.; SAAD, F.; SMITH, M.R.; SUVA, L.J.; TAICHMAN, R.S.; VESSELLA, R.L.; WEILBAECHER, K.N. Advancing treatment for metastatic bone cancer: consensus recommendations from the Second Crambridge Conference. Clin Cancer Res, v. 14, n. 20, p. 6387-6395, 2008.
CROTTI, T.; SMITH, M.D.; HIRSCH, R.; SOUKOULIS, S.; WEEDON, H.; CAPONE, M.; AHERN, M.J.; HAYNES, D. Receptor activator NF kappaB ligand (RANKL) and osteoprotegerin (OPG) protein expression in periodontitis. Journal of Periodontal Research, v. 38, n. 4, p. 380-387, 2003.
DARVEAU, R.P. Periodontitis: a polymicrobial disruption of host homeostasis. Macmillan Publisher, v. 8, p. 481-490, 2010.
DELIMA, A.J.; OATES, T.; ASSUMA, R.; SCHWARTZ, Z.; COCHRAN, D.; AMAR, S.; GRAVES, D.T. Soluble antagonists to interleukin-1 (IL-1) and tumor necrosis factor (TNF) inhibits loss of tissue attachment in experimental periodontitis. J Clin Periodontol, v. 28, p. 233–240, 2001.
DEO, V.; BHONGADE, M.L. Pathogenesis of periodontitis: role of cytokines in host response. Dent Today, v. 29, n. 9, p. 60-62, 2010.
EZRA, A.; GOLOMB, G. Administration routes and delivery systems of bisphosphonates for the treatment of bone resorption. Adv Drug Deliv Rev, v. 42, n.3, p. 175-195, 2000.
FERNANDES, C.; LEITE, R.S.; LANÇAS, F.M. Bisfosfonatos: síntese, análises químicas e aplicações farmacológicas. Quim Nova, v. 28, n. 2, p. 274-280, 2005.
FLEISCH, H. Bisphosphonates in bone disease: from the laboratory to the patient. 4ª ed. Academic Press, San Diego, California, 2000.
FLEISCH, H. Development of bisphosphonates. Breast Cancer Res, v. 4, n. 1, p. 30-34, 2002.
FRODGE, B.D.; EBERSOLE, J.L.; KRYSCIO, R.J.; THOMAS, M.V.; MILLER, C.S. Bone remodeling biomarkers of periodontal disease in saliva. J Periodontol, v. 79, n. 10, p. 1913-1919, 2008.
FURLANETO, F.A.C.; NUNES, N.L.T.; FILHO, I.L.O.; FROTA, N.P.R.; YAMAMOTO, K.O.; LISBOA, M.R.P.; ERVOLINO, E.; TABA JR, M.; REGO, R.O.; MESSORA, M.R. Effects of Locally Administered Tiludronic Acid on Experimental Periodontitis in Rats. J Periodontol, v. 85, n. 9, p. 1291- 1301, 2014.
GEGLER, A.; CHERUBINI, K.; FIGUEIREDO, M.A.Z.; YURGEL, L.S.; AZAMBUJA, A.A. Bisfosfonatos e osteonecrose maxilar: revisão da literatura e relato de dois casos. Revista Brasileira de Cancerologia, v. 52, n. 1, p. 25-31, 2006.
GOES, P.; MELO, I.M.; SILVA, L.M.C.M.; BENEVIDES, N.M.B.; ALENCAR, N.M.N.; RIBEIRO, R.A.; LIMA, V. Low-dose combination of alendronate and atorvastatin reduces ligatureinduced alveolar bone loss in rats. J Periodont Res, v. 49, p. 45–54, 2014.
GRAVES, D.T.; COCHRAN, D. The contribution of interleukin-1 and tumor necrosis factor to periodontal tissue destruction. J Periodontol, v.74, p.391-401, 2003.
GRAZIANI, F.; CEI, S.; GUERRERO, A.; LA FERLA, F.; VANO, M.; TONETTI, M.; GABRIELE, M. Lack of short-term adjunctive effect of systemic neridronate in non-surgical periodontal therapy of advanced generalized chronic periodontitis: an open label randomized clinical trial. J Clin Periodontol, v. 36 p. 419–427, 2009.
HESS, L.M.; JETER, J.M.; BENHAM-HUTCHINS, M.; ALBERTS, D.S. Factors associated with osteonecrosis of the jaw among bisphosphonate users. Am J Med, v. 121, p. 475-483, 2008.
KAWAI, T.; MATSUYAMA, T.; HOSOKAWA, Y.; MAKIHIRA, S.; SEKI, M.; KARIMBUX, N.Y.; GONÇALVES, R.B.; VALVERDE, P.; DIBART, S.; LI, Y.P.; MIRANDA, L.A.; ERNEST, C.W.; IZUMI, Y.; TAUBAMN, M.A. B and T lymphocytes are the primary sources of RANKL in the bone resorptive lesion of periodontal disease. Am J Pathol, v. 169, p. 987-998, 2006.
KILLEEN, A.C; RAKES, P.A; SCHMID, M. J; ZHANG, Y; NARAYANA, N; MARX, D.B; PAYNE, J.B; WANG, D; REINHARDT, R.A. Impact of Local and Systemic Alendronate on Simvastatin-Induced New Bone Around Periodontal Defects. J Periodontol, v. 83, n. 12, p. 1463-1471, dez/ 2012.
KINANE, D.F. Causation and pathogenesis of periodontal disease. Periodontol 2000, v. 25, p. 8-20, 2001.
LACATIVA, P.G.; FARIAS, M.L.F. Osteoporosis and inflammation. Arq Bras Endocrinol Metabol., v. 54, n. 2, p. 123-132, 2010.
LANE, N.; ARMITAGE, G.C.; LOOMER, P.; HSIEH, S.; MAJUMDAR, S.; WANG, H.Y.; JEFFCOAT, M.; MUNOZ, T. Bisphosphonate Therapy Improves the Outcome of Conventional Periodontal Treatment: Results of a 12-Month, Randomized, Placebo-Controlled Study. J Periodontol, v. 76, n.7, p. 1113-1122, 2005.
LICATA, A.A. Discovery, clinical development, and therapeutic uses of BPs. Am Pharmacother, v. 39, n. 4, p. 668 -677, 2005.
LIMA, V.; BEZERRA, M.M.; LEITÃO, R.F.C.; BRITO, G.A.C.; ROCHA, F.A.C.; RIBEIRO, R.A. Principais mediadores inflamatórios envolvidos na fisiopatologia da Periodontite – Papel de Moduladores Farmacológicos. R. Periodontia, v. 18, n. 3, p. 1-19, Set, 2008.
MADIANOS, P.N.; BOBETSIS, Y.A.; KINANE, D.F. Generation of inflammatory stimuli: how bacteria set up inflammatory responses in the gingiva. J Clin Periodontol, v. 32, n. 6, p. 57-71, 2005.
MOREIRA, M.M.; CORREA, V.B.; MARQUES, N.D.M.; FERREIRA, L.B.; ARANA-CHAVEZ ,V.E. Ultrastructural and Immunohistochemical Study of the Effect of Sodium Alendronate in the Progression of Experimental Periodontitis in Rats. Microscopy Research and Technique, v.77, p. 902–909, 2014.
MYNENI, S.R.; SETTEM, R.P.; SHARMA, A. Bacteria take control of tolls and T cells to destruct jaw bone. Immunol Invest. v. 42, n. 7, p. 519-531, 2013.
NOGUCHI, K.; ISHIKAWA, I. The roles of cyclooxygenase-2 and prostaglandin E2 in periodontal disease. Periodontology 2000, v. 43, p. 85-101, 2007.
OZDEMIR, S.P.; KURTIS, B.L.; TUTER, G.; BOZKURT, S.; GULTEKIN, S.E.; SENGUBEN, B.; WATANABEO, K.; AYDIN, S. Effects of Low-Dose Doxycycline and Bisphosphonate Clodronate on Alveolar Bone Loss and Gingival Levels of Matrix Metalloproteinase-9 and Interleukin-1b in Rats With Diabetes: A Histomorphometric and Immunohistochemical Study. J Periodontol, v. 83, n. 9, p. 1172 – 1182, 2012.
PACIFICI, R. Archives of Biochemistry and Biophysic. Elsevier, v. 503, p. 41–53, 2010.
PIHLSTROM, B.L.; MICHALOWICZ, B.S.; JOHSON, N.W. Periodontal diseases. Seminar, v. 366, 2005. Disponível em: http://www.thelancet.com/journals/lancet/article/PIIS01406736(05)67728-8/abstract?cc=y=. Acesso em: 22 out. 2015.
PRADEEP, A.R.; SHARMA, A.; RAO, N.S.; BAJAJ, P.; NAIK, S.B.; KUMARI, M. Local Drug Delivery of Alendronate Gel for the Treatment of Patients With Chronic Periodontitis With Diabetes Mellitus: A Double-Masked Controlled Clinical Trial. J Periodontol, v. 83, n.10, 2012.
PRADEEP, A.R.; KUMARI, M.; RAO, N.S.; NAIK, S.B. 1% Alendronate Gel as Local Drug Delivery in the Treatment of Class II Furcation Defects: A Randomized Controlled Clinical Trial. J Periodontol, v. 84, n.3, Mar, 2013.
PRICE, U.; LE, H.O.T.; POWELL, S.E; SCHMID, M.J.; MARX, D.B.; ZHANG, Y.; WANG, D.; NARAYANA, N.; REINHARDT, R.A. Effects of local simvastatin–alendronate conjugate in preventing periodontitis bone loss. J Periodont Res, v. 48, p. 541–548, 2013.
ROCHA, M.L.; MALACARA, J.M.; SÁNCHEZ-MARIN, F.J.; DE LA TORRE, C J.V.; FAJARDO, M.E. Effect of Alendronate on Periodontal Disease in Postmenopausal Women: A Randomized Placebo-Controlled Trial. J Periodontol, v. 75, n.12, 2004.
RUGGIERO, S.L.; MEHOTRA, B.; ROSENBERG, T.J.; ENGROFF, S.L. Osteonecrosis of the jaws associated with the use of bisphosphonates: a review of 63 cases. Journal of Oral and Maxillofacial Surgery, Philadelphia, v. 62, n. 5, p. 527-534, 2004.
SHAJU, J.P.; ZADE, R.M.; DAS, M. Prevalence of periodontitis in the Indian population: A literature review. Journal of Indian Society of Periodontology , v. 15, n. 1, p. 29-34, 2011.
SHARMA, A.; PRADEEP, A.R. Clinical Efficacy of 1% Alendronate Gel as a Local Drug Delivery System in the Treatment of Chronic Periodontitis: A Randomized, Controlled Clinical Trial. J Periodontol, v. 83, n. 1, p. 11-18, 2012.
TABA, J.R.M.; KINNEY, J.; KIM, A.S.; GIANNOBILE, W.V. Diagnostic biomarkers for oral and periodontal diseases. Dent Clin North, v. 49, n. 3, p. 551- 571, 2005.
TANNA, N.K.; JEFFCOAT, M.K. Actonel® (risedronate) therapy for the maintenance ofalveolar bone in adult chronic periodontitis. Health, v.5, n.7A2, p.12-17, 2013.
TAUBMAN, M.A.; VALVERDE, P.; HAN, X.; KAWAI, T. Immune response: the key to bone resorption in periodontal disease. J Periodontol, v. 76, n. 11, p. 2033-2041, 2005.
TENG, Y.T. The role of acquired immunity and periodontal disease progression. Crit Rev Oral Biol Med, v. 14, n. 4, p. 237-252, 2003.
WARA-ASWAPATI, N.; SURARIT, R.; CHAYASADOM, A.; BOCH, J.A.; PITIPHAT, W. RANKL upregulation associated with periodontitis and Porphyromonas gingivalis. J Periodontol, v. 78, n. 6, p. 1062-1069, 2007.
YUCEL-LINDBERG, T.; BAGE, T. Inflammatory mediators in the pathogenesis of periodontitis. Expert Rev Mol Med, 2013.
ZHANG, Y.H.; HEULSMANN, A.; TONDRAVI, M.M.; MUKHERJEE, A.; ABU-AMER, Y. Tumor necrosis factor-alpha (TNF) stimulates RANKL-induced osteoclastogenesis via coupling of TNF type 1 receptor and RANK signaling pathways. J Biol Chem, v. 276, n. 1, p. 563-568, 2001.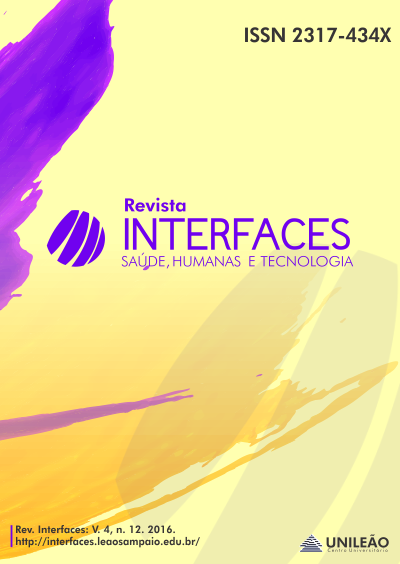 Downloads
Como Citar
Tavares, S. J. da S., Menezes, A. D. de, & Guimarães, M. V. (2017). O USO DOS BIFOSFONATOS COMO COADJUVANTES NA TERAPIA PERIODONTAL – REVISÃO DE LITERATURA. Revista Interfaces: Saúde, Humanas E Tecnologia, 4(12), 41–50. https://doi.org/10.16891/327